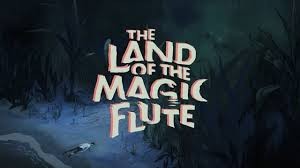 clients: IMF, Filmtank Berlin und Festspiele Bregenz

project period: 2013 – 2014
story:
"Best-selling author Chris Taminer (Tamino) finds himself stranded on a strange island after his car crashes into a lake. It is "The Land of the Magic Flute" – where magical principles predominate and a battle between the Queen of the Night and Sarastro, ruler of the sun, threatens to destroy the world."
(source: IMF)
press text:
"Mystery, adventure and the war of dark forces for the reign of the Golden Circle of the Sun are the elements of Mozart's most popular opera "The Magic Flute". Numerous stagings and highly diverse interpretations of this masterpiece have fascinated audiences from all over the world for over 200 years. Now it will capture your imagination!

The Land of the Magic Flute is a modern and fast-paced adaptation of the classic. Intricate hand-drawn illustrations and animations and a musical concept that plays with Mozart's composition create a rich and unique world.

The Motion Graphic Novel takes you on a fantastic journey!
Immerse yourself in the adventure and discover the world of opera in a new dimension!"
(source: IMF)
Link to the Motion Graphic Novel (English/German)

Link to the Making Of (English)

client: Ravensburger
project period: since 2010

contribution: concept, game design, all texts and stories

tiptoi "Ritterburg" / "Knight´s Castle" (2010)
tiptoi "Kinderarzt" / "Children´s Doctor" (2011)
tiptoi Spielfiguren, Tier-Sets "Bauernhof"/"Farmhouse", "Reiterhof"/"Equestrian Farm" und "Zoo" (2012–2014)
tiptoi Adventskalender 2015 (2014; contribution: story)
tiptoi Spielwelt "Polizei"/"Police" und "Autorennen"/"Car Racing" (2015)
client: Akkord Film GmbH
project period: 2015
contribution: 2 scripts
press text:

"The litte raven Socke is the fun-loving, lovable and unconventional hero of numerous picture books. Afer conquering the cinema screen, he and his friends are heading for the living rooms to entertain their little and grown-up fans with 52 new adventures." (source: akkordfilm.com)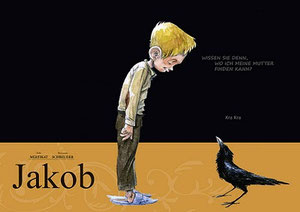 client: Cross Cult
project period: 2009 – 2010
contribution: Drehbuch 
story:
When the eight-year-old Jakob hears that his mother has "departed forever", he sets out on a search quest. But nobody knows the way leading to the place Jakob´s mother went to. And those, who might know more, the ravens and the foxes, refuse to reveal it. Still, Jakob is prepared to pay every price to find his mother. Even the final one ...
press text:
"The German newcomers Benjamin Schreuder and Felix Mertikat tell a lyrically illustrated all age fable in the styl of Carlo Callodis "Pinocchio" and the modern fairy tales of Neil Gaiman ..." (source: Cross Cult)
link to the TV report by arte (German)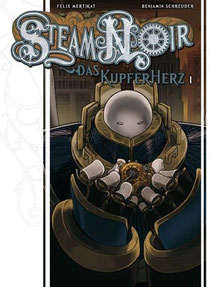 project period: 2010 – 2011
contricution: script

story:
"A hoursebreaking in the ether port city "Schierling" calls an exceptional investigation team on the scence: Heinrich Lerchenwald, a bachelor and bon vivant, who is serving the Leonard´s alliance as a so-called bizzaromantic; Richard Hirschmann, an ensouled robot, a gentle but eager criminologist; and Ms. D, a forensic science technician and suffragette all in one. An extraordinary team dealing with a extraordinary murder case leading to an ominous faith healer dealing with mechanical organs.

press text:
For their comic debut "Jakob" Felix Mertikat and Benjamin Schreuder have been honored with the Sonderman prize at Frankfurt Book Fair. Steam Noir, their second cooperation, is much more epic and spectacular than their acclaimed debut. "Das Kupferherz" (Engl. "The Copper Heart") is the first step towards a new Steampunk World, that is unparalleld in the German comic scene. Inventive, atmospherical, sombre and full of surprising lyrical moments – a perfect mix of pulp-entertainment a la "Hellboy" and the modern scare stories of E. T. A. Hoffmann."  (source: Cross Cult)
link to the TV report by 3sat (German)

link to the TV report by SWR (German)

link the Sondermann prize 2012 (German)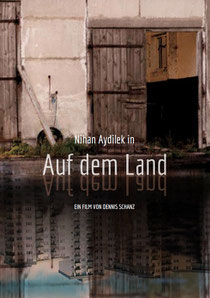 client: StickUp Films  
project period: 2011
contribution: script (together with Dennis Schanz) 
story:
Volkan is supposed to find his way back into society by working on a farm. But on the verge of adulthood, alienated and lost in a strange environment, he seems to lose himself.
film festivals: St. Petersburg, Interfilm (Berlin), Max Ophüls Festival (Saarbrücken)  
jury statement of the German Filmbewertungsstelle (rating: "valuable") (German)

client: Zeitland media & games
project period: 2011 – 2013
contribution: concept for the interactive novel (with Zeitland); story and story world 
In 2070 the contact to the Mars station suddenly breaks off. The last transmissions that reached Earth suggest a dramatic incident. There´s evidence for the outbreak of an unknown virus.  Virologist Josh Blankman is part of the task force sent to Mars. Soon he is caught between the fronts of two fiercly conflicting parties. He has to see through a web of secrets and deceptions.

"Mars" is a science fiction thriller presented as an interactive novel for iPads. The presentation is based on the eBook-format, enriched by gamified elements, animated illustrations and an atmospheric audio-production. Still the core of the digital interactive novel are of course meaningful interactive decisions. That implies the user of "Mars" is at the same timer reader, viewer, gamer, listener and most of of all active participant of the story world.